Make your dream piece of jewellery
Whether it's an engagement ring for your partner, or some earrings for yourself, I work personally with you to make the perfect piece.
get a quote
"I use recycled metals and ethical stones. The Diamonds I use are Ocean Diamonds and come from the bottom of the Atlantic Ocean."
The story of my engagement ring
As I progress with my own engagement ring I am recording the process....
Read more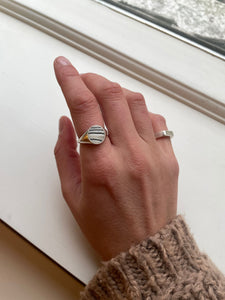 HENRI LONDON - Hetty's Ring
Hetty ran Henri London for 5 years. Read more about the ring I made her...
Read Hetty's story
Double Sided Rings
I am doing more and more double sided rings which I love. They are versatile and always have such special stories.
Pendant for Pro Skater Nora
I was so honoured when Nora Vasconcellos asked me to create this pendant for her. She is an incredible skater but all round awesome person!
GET A QUOTE
With every bespoke piece I work really closely with the people involved, I get to know them, their hobbies, their passions and more... It makes it an incredibly special process. Whether it's an engagement ring or a remodel of an old piece of jewellery, there is something incredible about creating a piece that someone is going to wear for a lifetime.

If you have something in mind please do get in touch and we can start the process over a coffee. Just email zoe@zmorton.com or fill in the contact form below.
"I work so closely with my stone suppliers, I can often tell you the name of the person who has cut your stone!"